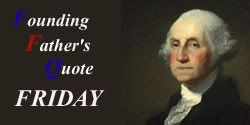 [This post is part of the Favorite Founders' Quote Friday sponsored by Meet the Founding Fathers. Go to the site to see who else has participated today.]
As our FFQF theme for September is "liberty" and "liberty" is becoming an historical concept rather than something we experience, it seemed appropriate to me that the month should begin with a definition of the word. (You might also want to read Ron Paul's speech in my last post that coincidentally is about this same subject.) So here are some definitions:
from Wiktionary:
1. The condition of being free from control or restrictions 2. The condition of being free from imprisonment, slavery, or forced labour. 3. The condition of being free to act, believe or express oneself as one chooses. 4. Freedom from excess government control
from my trusty old Webster's unabridged:
1. freedom from arbitrary or despotic government or control 2. freedom from external or foreign rule; independence 3. freedom from control, interference, obligation, restriction, hampering conditions, etc; power or right of doing, thinking, speaking, etc., according to choice
from the trustier, older (1743-1826) Thomas Jefferson, and the purpose of today's post (I love this one!)
Of liberty I would say that, in the whole plenitude of its extent, it is unobstructed action according to our will. But rightful liberty is unobstructed action according to our will within limits drawn around us by the equal rights of others. I do not add 'within the limits of the law,' because law is often but the tyrant's will, and always so when it violates the right of an individual.
from a letter to Isaac Hall Tiffany, Esq., April 4, 1819, while Tiffany resided in "Schoharie Bridge" NY (my backyard)